Find out more about the 20 GUARANTEED Cash prizes every week . It's FREE to join.
Over 100 sites making it possible to be a winner.
Don't just set your goal at being a winner, get your Ads seen by 1000's of viewers.



Launched 15th June 2021. Designed and owned by: Garry Ridlington. Contact: command@lostinadspaces.com
Skype Group: https://join.skype.com/GTEBV25EJj6A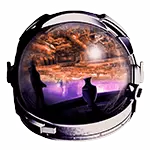 WEEK
33
Active.
Thinking outside the Box is Normal here!
That's how businesses grow, by being different.
Pages viewed this week across the Sites showing the "Helmet" Badges.
Loading...
Collected this week.

Single Badges:

Loading...

Double Badges:

Loading...

Quad Badges:

Loading...

GOLD BADGES:

Loading...
What members have to say about
Lost in Ad Spaces
I liked LAS since the start of my open account. Ships are real great, love them. Also like the connected sites that collect Helmets. And some online tools that are helpful along with our social/blog page. Thanks LAS, your doing a great job. -)

Mike SavageJr
 Do you have it in you to be the next..

After completing your sign-up, use the Quick site guide at the top of your Ships Console plus all the Tools you need to  get started under your Tool Box.